From
www.guardian.co.uk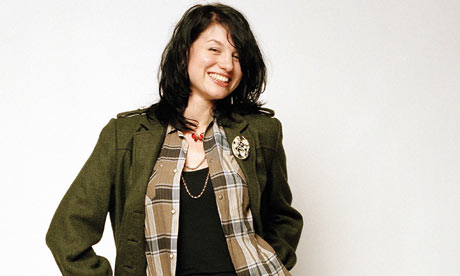 Krissie Murissan, editor of New Musical Express (NME), 2009. Photograph: Eamonn McCabe/Eamonn McCabe
Women are making inroads in pop. But men still call the tune
Anushka Asthana
-
The Observer
, Sunday 2 August 2009
As the New Musical Express appoints its first female editor, the music business is starting to shed its misogynist image. But for many women, from performers to publicists and record label executives, the glass ceiling is still very much in place
Camden, north London, 1993. Hundreds of people were thronging the streets, streaming past rows of brightly painted buildings, buying food from market stalls by the canal and bartering with traders.
Sitting in a noisy pub, Louise Wener, the lead singer of a then little-known band called Sleeper, clutched a pint and waited excitedly for a journalist to arrive. "It was our first interview with NME," she recalls. "This guy walked in with a big jacket - I remember he was bald. He sat down at the table, took one look at me and then turned to speak to the other guys. I was the main singer and writing the songs, but he did not ask me a single question."
Wener, who is now a novelist, says that is what music journalism was like then, a "boys' club" - where it was acceptable for writers to ask her lurid and patronising questions and for photographers to leer as they told her to undo another button of her blouse. "It was creepy."
So it came as something of a surprise to learn last week that the magazine she once found so "hideous" - that staffed its offices and filled its pages mainly with men - had appointed Krissi Murison as its first female editor. "I almost fell off my chair," says Wener, laughing.
[ Read more Women are making inroads in pop. But men still call the tune ]