From
guardian.co.uk
The gospel according to Luke Haines
Louise Wener
The Observer
, Sunday 18 January 2009
Bad Vibes
: Britpop and My Part in Its Downfall
by Luke Haines
pp256,
Heinemann,
£12.99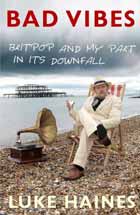 The self-styled bad boy of Britpop hasn't a good word to say for anyone, least of all Blur, but is there any substance behind the bile? asks Louise Wener
Someone was bound to do it sooner or later. And who better than Luke Haines, rock music's perennial underachiever, its king curmudgeon, to pen Britpop's very own misery memoir? Over 256 agreeably spite-filled pages, he spins a series of tall tales involving personal ignominy, drug psychosis, commercial failure and profound physical self-harm. He is a self-confessed misanthrope, a bad seed who hates everyone and everything and, to begin with, I couldn't help but love him for it.
It shouldn't be so. Haines and I are matter and anti-matter. Dark and light. Had we run into each other in the mid-90s - if we did, I don't recall - it's likely we would have cancelled one another out. Haines was a grim-faced art-rocker who wrote lyrics about French girlfriends and 70s terrorists. I was a doe-eyed siren who sang with my band Sleeper about sex and suburban angst. While Haines feigned contempt for the Britpop circus that cast him to its margins, I clung to the greasy pole of its merry-go-round and rode it for all it was worth.
Haines's pet peeve, the fuel that stokes his "biblical desire for revenge", is that he should have been more successful. As the 1990s got into their stride, his ascent to glory seemed assured. He was "the new girl in town that everyone wants to fuck". His band, the Auteurs, were feted by the press and nominated for the Mercury Music Prize, an event he describes, with winning disdain, as a "feeble-minded sports day for the music biz".
[ Read more The gospel according to Luke Haines ]